Hot Race Buggy Foams at the DMCC
A number of months ago the Dublin Model Car Club called out Hot Race Buggy Foams as our control tyre. It was a decision we weren`t sure about, but heres how it`s gone so far.
Rent for the club has increased, a lot of money was spent on the track after the fire at the club, hence Race Fees were increasing for most members. Also, the cost of running a rubber pin tyre was getting silly if a driver wanted to remain competitive.
The tyre bill for a year could be over €1000 for a driver using one set of pin tyres per round of championship racing. Double if running 4WD. What was really scaring us was the use of 2 full sets for a round of club racing. Plus the handling of the car changed so much during the short life of a pin tyre, it was hard to get the setup right. We felt we HAD to do somthing
We had experimented with a number of other types of tyre, from slick to dirt tyres to special surface tyres, and had very mixed results. Some needed additive to make them work, and this was not a route we wanted to go down. Then we came across Hot Race Buggy Foams!
These were designed by David Ronnefalk with HotRace who are mainly a 8th scale tyre manufacturer. David is an 8th scale European and World Champion, plus hes won 4WD 10th Euros, and many other big races... so we reckoned he must have an idea what he`s doing :). His reason for coming up with this tyre was similar to our reasons for looking for an alternative to pin tyres... cost to club racers.
We were worried they were a bit.... touring car... but we had also seen a video of David testing the tyres, and felt they were worth trying. So we orderd a few sets to try.
The first run with the Foams was terrible! But of course they were on a car set up for pin tyres, and needed a little work. A few small changes, like increasing rear toe-in, softer rear springs, no anti-roll bars... and the cars were transformed.
This was enough for a couple of members to persist for a couple of weeks, and very quickly we found we were getting lap times less than a second slower than with rubber pin tyres. One of the problems we found was, we needed to see how much running a tyre would take, and in order to wear them down we had to share a set between 3 drivers... before we found the point they would no longer work!
So the decision was made, to make 5 rounds of the clubs summer championship a control tyre event. Some drivers didnt even wait, and started at round 1 with foams!
Straight away, we found these tyres did the two things we really wanted. 1. They last long 2. They are consistent.
Below is a new tyre on the left, and a used tyre on the right. The used tyre has 1000 laps of our track on it, and continued to work until it had 1200 laps! Thats actually enough laps to do an entire 10 round championship at our club!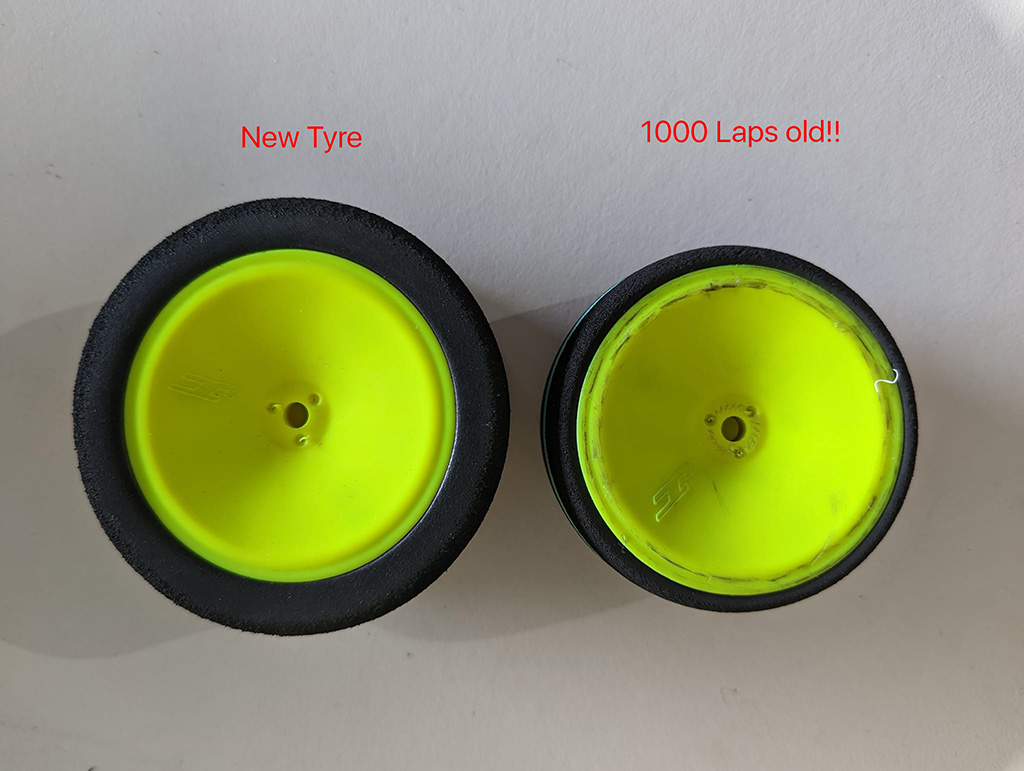 Even though the worn tyres look super thin, the behaviour of the car is the same as with a new set. All that`s needed to be changed was increasing the pinion size to take account of roll-out, and watching the ride height. But lap times remain consistent throughout the life of the tyre.
How does it effect the racing? Well, its better! That seems to be the opinion of most racers. With a little less grip, the cars behave more like on dirt, with a bit of slide. It`s a little like racing on a worn/dusty grass track in hot weather. When cars..um "touch", they are also less likely to end up on their roof, so the fun factor that pin tyres were starting to take out of racing is now coming back.
We had also noticed, that there was a drop off in numbers on our Wednesday Night practice, and when asked why, most drivers reason was they needed a new set of pin tyres just for a practice night! This has changed and we are seeing increased numbers on Wednesday Nights.
Another great thing with these tyres... no more super glue! No tyres stuck to the work bench, no tyres stuck to your fingers...and no feet stuck to the floor (never glue tyres in your bare feet!!!).
But why put down carpet and then use a lower grip tyre? Well the reason we have carpet at our track isnt for high grip. It was a relatively cheap racing surface and easy to maintain. After the astro turf was wrecked during the fire, our options were to get more astro or look into dirt. Neither were runners (between covid lockdowns and landlords not wanting their warehouse full of muck). So running foams on the EOS carpet gives us the best of both worlds in our opinion.
Scrutiny is also easy with the green stripe!!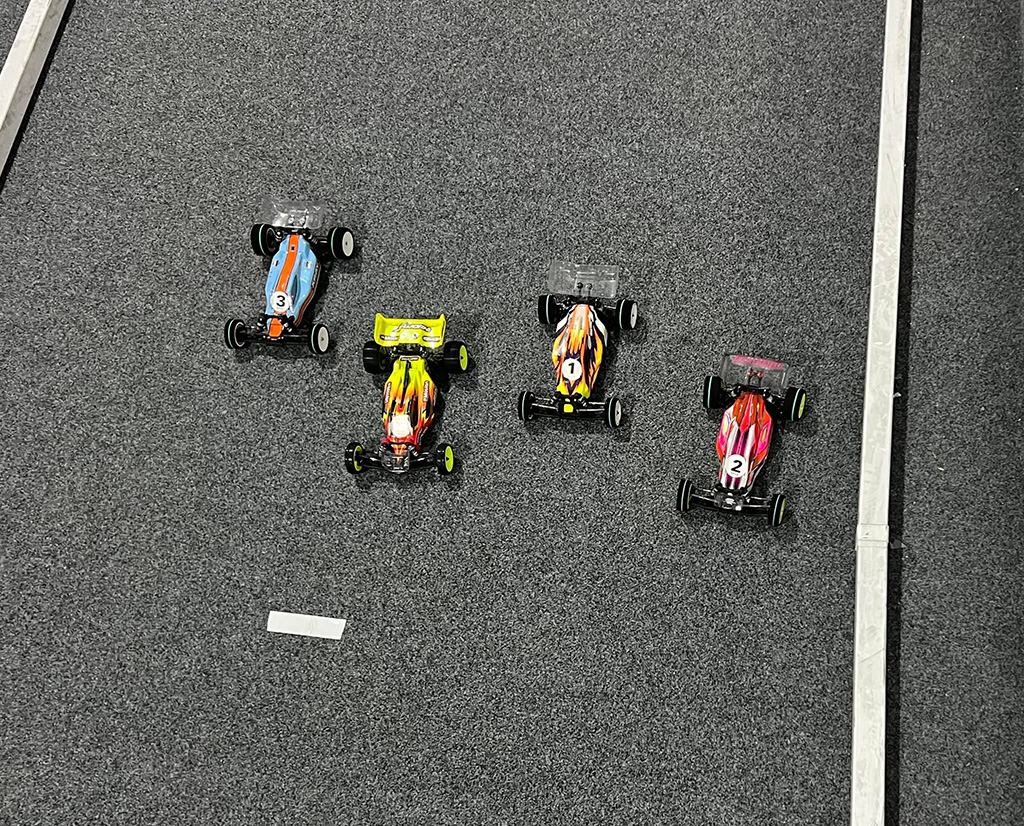 Before most of our members moved over to the Buggy Foams, they were a little sceptical. But very quickly we were getting a lot of positive feedback. We havent yet had anything negitive about the tyres, and plan to run them as our club control tyre for the forseeable future. In fact, we have now gone to the point of banning pin or spike tyres on the track, as grip increases a little the more foams are un on the carpet.
We could recommend using these tyres to any club looking to reduce costs for their members, or even just to make the racing more fun and consistent.
We would also like to say thanks to David Ronnefalk for all the help and guidence he gave when we first started out on this road!!!
If any club wants information or advice on the tyre, please dont hesitate to contact us, we are a big fan of the Hot Race Buggy Foam, and would only be more than happy to pass on what we have learned. Email us at: dublinmodelcarclub@gmail.com
The tyres can be purchased from Ronnefalk Racing, or locally at our Club from MSD Models. Links below...